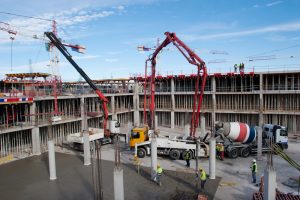 A recent construction site accident wrongful death Los Angeles County case and jury verdict illustrate several important topics, including cases in which several parties share liability in causing workplace accidents, workers' compensation and the liability of third parties in workplace accidents. The case (Rosa Gonzalez, et.al. v. Atlas Construction Supply – L.A. Superior Court Case No. BC 507755) involved a man who was killed while working on a construction site in 2011.
Factual background of the case
On Aug. 2, 2011, a 30-year-old man was working at the Hyperion Treatment Plant, a wastewater facility located in Playa del Rey that handles the municipal water for the City of Los Angeles. The city commissioned a construction project at the facility, hiring USS Cal Builders as the general contractor for the work to replace a gas compressor facility that was 60 years old. USS Cal Builders hired Atlas Construction Supply, Inc. to build the concrete walls using concrete forms. The man, who was employed by USS Cal Builders, was standing on top of one of the forms when it collapsed, causing him to fall 30 feet to the ground. A portion of the wall collapsed on top of him, causing a catastrophic head injury. He was killed in the accident, and his family filed a lawsuit against Atlas Construction Supply, Inc.