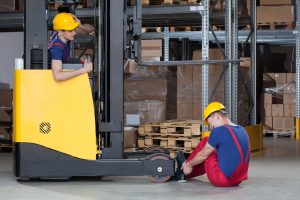 In California, people who have been seriously injured by defectively designed products may be entitled to recover damages in a product liability lawsuit. The courts may instruct the jury about the tests that they should apply when evaluating an alleged design defect. However, as
Verrazono v. Gehl Co.
, Cal. Ct. App. Case No. A152318 shows, the court is not always required to provide the instruction proposed by the plaintiff.[1] Some cases involving serious injuries from products will not provide the basis for the recovery of damages. (Note: for a full discussion on workplace injuries and how they can involve various types of claims including work comp, personal injury and product liability,
click here
).
Factual and procedural background
In 2012, Gary Verrazono was operating a rough terrain forklift at the Sonoma Raceway in Sonoma County. It tipped over, seriously injuring him. He then filed a lawsuit against Gehl Co., the manufacturer of the forklift, alleging that the forklift had a design defect because it lacked a non-removable door and a seatbelt system with more than two points. He also alleged that the forklift should have contained an interlock system that would have prevented its operation without the operator wearing the seatbelt. The case proceeded to trial, and the jury returned a verdict in favor of the defense.