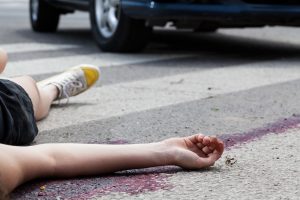 Every year in California, hundreds of people are killed and thousands are
injured in pedestrian accidents
. In 2019, the most recent year for which data is available, the
California Highway Patrol
reported that 1,034 people were killed and 14,126 were injured in pedestrian accidents in the state.
Pedestrians do not have anything to protect them when they are struck by vehicles and instead absorb the physical forces released in a collision with their bodies. Because of this, they are much more likely to suffer serious injuries or to be killed in pedestrian accidents involving motor vehicles. To try to reduce the number of pedestrian accidents and resulting injuries and deaths, California enacted jaywalking laws to encourage pedestrians to cross at intersections and in crosswalks. However, the legislature recently passed a bill that was signed into law that changed how the state handles jaywalking. Here's what you need to know about the new jaywalking law and its likely impact on pedestrian accident claims.
New Jaywalking Law in California
On August 25, 2022, the California Legislature passed AB-2147, which is also known as the "Freedom to Walk" bill. Gov. Gavin Newsom signed the bill into law on Sept. 30, 2022, and it became effective on Jan. 1, 2023. Under this law, several changes were made to California's existing jaywalking laws. The bill, which was sponsored by Phil Ting, (D-San Francisco), came in response to activists who have argued for years that the state's jaywalking laws have been used to target low-income people and minorities.
The new jaywalking law allows people to cross the street anywhere that it is safe without facing potential citations and fines, including outside of designated crosswalks and intersections. People are allowed to cross except in situations in which a reasonably careful person would determine that there would be an imminent danger of an accident with a motor vehicle. While pedestrians in other major cities such as New York rarely issue jaywalking tickets, those in California have faced significant ticketing when they cross outside of designated crossing areas or fail to finish crossing before the walk signal ends.
According to research completed by Rep. Ting, Black people are 4.5 times likelier to be ticketed for jaywalking than white people. Jaywalking tickets are expensive and can be difficult for residents to pay, and Ting states that law enforcement resources should be put to better use. The law also requires the California Highway Patrol to work with the Unversity of California's Institute of Transportation Studies and submit a report about pedestrian accident data to the legislature by Jan. 1, 2028, to evaluate how traffic safety might be affected by the new jaywalking laws.
How Might the New Jaywalking Law Affect Pedestrian Accident Cases?
Under the old law, people on foot might have hesitated to cross in non-designated areas because of the risk of citations and hefty fines. However, since jaywalking has been decriminalized, there might be an increase in the number of pedestrian accidents as more people try to cross the roads in areas other than intersections and crosswalks. Drivers also might not expect pedestrians to cross in midblock areas, and both pedestrians and motorists might be distracted by cell phones and other devices and fail to notice each other. It will likely take time for drivers and pedestrians to become accustomed to this new law and adjust their behavior accordingly.
Even though AB-2147 allows pedestrians to cross the road in non-designated areas, it doesn't absolve them of the duty to check for traffic before they step onto the street. Pedestrians must look and only cross when there isn't an immediate danger of being involved in an accident. Drivers also have the responsibility of keeping their attention focused on the roads and watching for pedestrians who might begin to cross. However, both pedestrians and drivers regularly fail to meet their obligations, which could result in more pedestrian injuries, fatalities, and accident claims.
Victims of pedestrian accidents can file personal injury claims to seek compensation for the losses they have suffered. Since the new law changes what pedestrians are allowed to do, it might make determining liability more difficult and require additional investigations.
Changes Under the New Law
The new jaywalking law changed the criteria police can use to cite pedestrians for jaywalking. Previously, law enforcement officers could issue citations to pedestrians who crossed the road anywhere other than at designated crosswalks and intersections. However, they can no longer do so unless a pedestrian crosses when they are in imminent danger of being hit by a car. While the previous law was meant to protect the safety of pedestrians, it forced many people on foot to travel long distances to reach designated crossing areas so that they could get across the street even when the place they wanted to reach was directly across from them. Pedestrians are still expected to yield to oncoming traffic when they cross at midblock and only to cross when they are sure it is safe.
The changes in the state's jaywalking laws will likely mean that police will issue fewer jaywalking citations. However, the penalties were not changed. People who cross when it is dangerous to do so can still be cited and fined. Jaywalking is a traffic infraction carrying fines and fees of more than $200. However, people who jaywalk don't receive points on their driving records.
Can Pedestrians Who Jaywalk Recover Compensation?
Even if a pedestrian is cited for jaywalking after being injured in a crash, it is still possible for them to pursue compensation through a personal injury claim against the motorist. This is because the state follows a system of pure comparative negligence under Cal. Civ. Code § 1714 and the California Supreme Court's decision in Li v. Yellow Cab Co., 532 P.2d 1226 (1975).
Under the doctrine of pure comparative negligence, every person is responsible for their degree of negligence in an accident. Someone who is partly at fault is not barred from recovering damages. Even when an injured pedestrian is primarily at fault for causing an accident, that will not prevent them from recovering compensation for their injuries and losses. However, any award will be reduced by the fault percentage a jury attributes to them.
For example, in a case in which a court determines a jaywalking pedestrian was 60% at fault but finds the gross damages that should be awarded total $100,000, the pedestrian's award will be reduced by 60% for a net award of $40,000. If a pedestrian is determined to be 20% at fault while the motorist is assigned 80%, the net award would be reduced to $80,000.
Since the law decriminalized jaywalking, it will be important for injury lawyers to carefully investigate what happened in pedestrian accidents to accurately determine liability. This might include interviewing witnesses, gathering and viewing video from traffic cameras, visiting the accident scene, working with an accident reconstruction expert, and taking other steps to gather critical evidence.
Statute of Limitations
The statute of limitations remains unchanged for victims of pedestrian accidents. This law sets a two-year deadline for filing an injury lawsuit following a pedestrian accident. People who wait too long to file claims will be prevented from pursuing compensation through the courts. While you might think that two years is plenty of time to think about filing a lawsuit, pedestrian accidents require careful investigation. Waiting until the deadline is imminent might mean that your attorney won't have enough time to gather evidence and investigate what happened, and some of the evidence might also be lost. Even if you are unsure about whether you have a valid claim, it's a good idea to contact an experienced pedestrian accident attorney as soon as possible following your crash to learn about your legal options.
Damages in a Pedestrian Accident Claim
Compensatory damages are monetary amounts that are designed to compensate accident victims for the following types of losses:
Past and future medical expenses to treat accident-related injuries
Past and future income losses
Physical pain and suffering
Psychological harm
Disability
Reduced quality of life
Loss of consortium or guidance
Disfigurement or scarring
Wrongful death damages in cases in which pedestrians are killed
Compensatory damages are intended to make accident victims whole. In some cases, punitive damages might also be awarded. These are damages that are paid in addition to compensatory damages, but they are typically only awarded in cases in which the defendant's actions were outrageous. An attorney can evaluate your case and help you learn about the types of damages you might be able to recover following a pedestrian accident.
Talk to an Attorney at the law firm of Steven M. Sweat, Personal Injury Lawyers, APC
If you were seriously injured in a pedestrian accident or lost your loved one, you might be entitled to compensation even if the collision occurred in a midblock area. To learn more about your case, contact the law office of Steven M. Sweat, Personal Injury Lawyers, APC today for a free consultation by calling 866-966-5240.