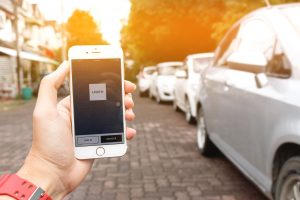 Many people in Los Angeles and throughout California use Uber as a convenient and affordable mode of transportation. Uber has a duty to screen its drivers and take steps to protect people who use its app to hail rides. However, this duty covers when an Uber passenger rides with an Uber driver. In the case of
Jane Doe No. 1 v. Uber Technologies, Inc
, Cal. Ct. App. Case No. B310131, the California Court of Appeal considered whether Uber's duty extended to situations in which women were assaulted by fake Uber drivers.[1]
Factual and Procedural Background
Between June 2017 and Feb. 2018, three women in Los Angeles each attempted to use the Uber app to hail rides home after spending their nights out at clubs where they consumed alcohol. In each of the women's cases, fake Uber drivers who had purchased Uber decals from the company's website and attached them to their vehicles pulled up instead of the Uber drivers. Two of the women did not try to verify that the vehicles and drivers were the right ones before getting into the vehicles. The third woman noticed the license plate number didn't match, but the fake Uber driver convinced her to get in by claiming he had recently crashed his car and had not yet updated his information in the app.