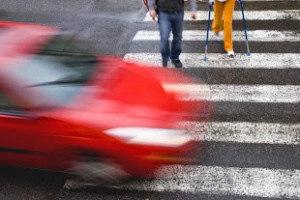 Many pedestrian accidents occur every year in Los Angeles, and their numbers are increasing. The organization "Los Angeles Walks" studied this issue carefully and developed a map that lists the busiest intersections where many of the collisions between pedestrians and motor vehicles occur. Their purpose is to make walking in this city safer for everyone.
According to the organization, 49 pedestrians were hit and killed by motor vehicles in the popular Hollywood and Highland intersection. However, this was not the worst. A total of 51 such collisions occurred at 7th Street and Spring Street in downtown LA. This means that there were exactly 100 pedestrian deaths in just these two intersections, and Jessica Meaney of the organization mentioned above thinks that this "not acceptable." She hopes that the city's leaders will take the map to heart and do something to reduce the number of pedestrian injuries and deaths. This expectation is a tall order because 19,000 pedestrians were hit by motor vehicles between 2003 and 2009, and many of these people lost their lives.
Santa Monica Boulevard and Vermont Avenue is another example of a dangerous intersection where an average 40 pedestrians are hit by motor vehicles each year. Local resident Kelly Smith is well aware of the danger because she spends a lot of her time walking and jogging in the area. She complained that cars come very close to hitting her on a regular basis because motorists often drive carelessly and are not paying as much attention as they could to what is going on around them.