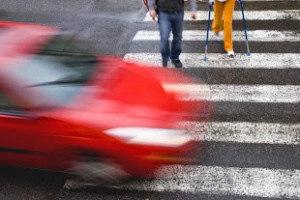 Many pedestrian accidents occur every year in Los Angeles, and their numbers are increasing. The organization "Los Angeles Walks" studied this issue carefully and developed a map that lists the busiest intersections where many of the collisions between pedestrians and motor vehicles occur. Their purpose is to make walking in this city safer for everyone.
According to the organization, 49 pedestrians were hit and killed by motor vehicles in the popular Hollywood and Highland intersection. However, this was not the worst. A total of 51 such collisions occurred at 7th Street and Spring Street in downtown LA. This means that there were exactly 100 pedestrian deaths in just these two intersections, and Jessica Meaney of the organization mentioned above thinks that this "not acceptable." She hopes that the city's leaders will take the map to heart and do something to reduce the number of pedestrian injuries and deaths. This expectation is a tall order because 19,000 pedestrians were hit by motor vehicles between 2003 and 2009, and many of these people lost their lives.
Santa Monica Boulevard and Vermont Avenue is another example of a dangerous intersection where an average 40 pedestrians are hit by motor vehicles each year. Local resident Kelly Smith is well aware of the danger because she spends a lot of her time walking and jogging in the area. She complained that cars come very close to hitting her on a regular basis because motorists often drive carelessly and are not paying as much attention as they could to what is going on around them.
Jacob Gago has learned that he has to "look twice" before he crosses the street at another of the most dangerous intersections. Approximately 41 pedestrians lose their lives in Downtown LA's Wilshire Boulevard and Flower Street intersection near where Mr. Gago works. He stated that many of these motorists are talking on their cell phones while they are driving.
The Most Dangerous Intersections in Los Angeles for Pedestrians
The most dangerous intersections and average number of fatalities are listed below:
• 7th and Spring with 51
• Hollywood and Highland with 49
• Hollywood and Western with 48
• Broadway and Sunset with 46
• Flower and Wilshire with 41
• Vermont and Santa Monica with 40
• Sunset and Logan with 38
• 8th and Alvarado with 38
• 7th and Vermont with 37
• Kenmore and 3rd with 35
• Vermont and Vernon with 32
Statute 710. Duties of Care for Pedestrians and Drivers
The California Judicial Council considered and addressed this issue previously and enacted 710 of the California Civil Jury Instructions, which is based upon both CA statutes and case law. According to this instruction that is entitled "Duties of Care for Pedestrians and Drivers," motorists must take every precaution to avoid causing injury to pedestrians. This instruction acknowledges the fact that pedestrians need to be aware that a motor vehicle can cause great harm to them and that they must also conduct themselves cautiously when they are on the roads. However, the motorist must know that he or she can inflict great bodily harm or even death on a person with his or her vehicle. Therefore, the motorist has the responsibility of taking greater care than the pedestrian.
California Vehicle Code 21950
According to California Vehicle Code 21950, pedestrians have the right-of-way. This means that drivers must stop their automobiles for pedestrians who wish to cross the street at a corner or a crosswalk. The crosswalk can be in the middle of the block. It does not have to be painted, and it does not have to have a traffic light. Furthermore, a motorist must exercise great care when approaching pedestrians who are crossing the street within a marked or unmarked crosswalk. Therefore, they are required to reduce their speed or take other precautions to ensure that the pedestrians are safe.
This code also addresses pedestrians and how they must conduct themselves on the roads. For example, pedestrians must not suddenly dart into the street when vehicles are traveling in their direction. Walkers who are proceeding through a marked or unmarked crosswalk are not allowed to delay traffic unnecessarily or stop before they have safely reached the curb. Although the actions of pedestrians were addressed in subdivision (b) of vehicle code 21950, this does not mean that motorists are relieved of their duty to exercise caution around pedestrians at all times.
Were You Injured in a Collision?
Although the state of California has taken this issue very seriously and enacted several laws to decrease the danger to pedestrians, motorists do not always follow these rules. If you were hurt in a pedestrian accident or you lost a loved one, it is within your rights to call a pedestrian accident attorney today to fight for monetary compensation for your injuries. You may also be entitled to file a wrongful death claim with the at-fault driver's insurance company. Whatever the case may be, your personal injury attorney will make sure that your voice is heard and that the insurance company does not take advantage of you.
Sources:
NBC Los Angeles – Mapping the Worst Hot Spots for Pedestrian Accidents