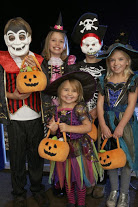 Halloween child pedestrian accidents in California are still a major problem, as they are across the United States.  We all love to see our kids dress up in costumes and be able to go from door to door trick or treating but, according the "Safe Kids USA" and the Centers for Disease Control, children are more than twice as likely to be struck by a car on Halloween than any other day of the year ! This is even more true in densely populated urban, residential neighborhoods like we have in Los Angeles, Orange County and other parts of Southern California.
What are the most common scenarios for minors being struck by cars on Halloween:
Most fatal child pedestrian accidents occur between 5:00 p.m. and 9:00 p.m. on October 31st with 6-7 p.m. being the peak hour for such incidents
Only 30 % of accidents occurred at intersections or crosswalks
As many as 12 % of children under the age of 12 are reported to have been trick or treating ALONE
Most accidents between pedestrians and motor vehicles can be partially or wholly attributable to lack of visibility
Trick or Treat Safety Tips for Pedestrians and Motor Vehicle Operators
Based upon the statistics cited above, it is clear that children (including kids under 12 and teenagers) are at high risk to be involved in an auto v. pedestrian mishap on "All Hallows Eve" due to many common factors.  Lack of adult supervision, lack of visibility, poor judgments when crossing roadways, and walking in heavily trafficked areas all contribute to catastrophes of kids getting hit by cars and either injured or killed.
Tips for Pedestrians
Never allow a child younger than 12 to trick or treat without being accompanied and supervised by an adult
Don't Jaywalk!  Always cross the street at or near an intersection and within a crosswalk, if at all possible
Try to finish trick or treating a little prior or a little after the "peak hour" of 6-7 p.m.
Make sure that your child is visible (have them carry a flashlight, glow sticks or other devices and/or put bright colors or reflective tape on their costumes or candy buckets)
Before stepping out in front of a car, make eye contact with the driver so that you are sure they see you
Walk on the sidewalks if at all possible
On multi-lane roads, make sure EACH lane has cleared before crossing
Don't wear masks that can obstruct your vision.  Makeup is a better alternative.
Tips for Drivers
NEVER DRIVE DRUNK.  Halloween is one of the biggest "party nights" of the year.  If you plan on drinking, designate a sober driver!
Slow down and look twice for kids!  Anticipate that children may dart out into the street.  California Vehicle Code 22350 mandates that every motor vehicle only drive as fast as is reasonable given ALL traffic conditions including the presence of pedestrians.  Furthermore, California Vehicle Code 21950(a) requires all drivers to yield the right of way to pedestrians lawfully within a marked or unmarked crosswalk at an intersection.
NEVER pass a vehicle that is stopped for pedestrians.
Look carefully behind your vehicle for pedestrians before backing up.
If we all take a little extra caution in preparing and accompanying our children and in driving a little more prudently this Halloween season, we can reduce pedestrian traffic collisions!
As a personal injury attorney, I think some of the toughest cases I have handled in the past almost 20 years are children hit and killed or seriously injured by motor vehicles.  Just a little bit of extra caution can go a long way to preventing this type of tragedy on Halloween or, for that matter, any other day or night during the year.  All fall, the days are shorter and children are traversing on our streets to go to school or to play.  SLOW DOWN and LOOK TWICE!  It could save a life!
Sources:
"Safe Kids USA" – Pedestrian Safety Fact Sheet, 2014
Additional Resources:
California Pedestrian Accident Claims Involving Minors (Los Angeles Injury Lawyers)
Right of Way Accident Claims in California (Los Angeles Injury Lawyers)