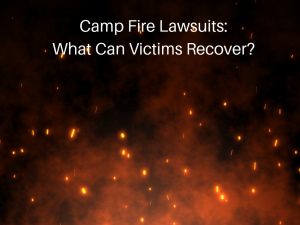 Numerous California law firms have already filed a series of coordinated lawsuits, on behalf of some of the victims of California's largest-ever wildfire, the Butte County Camp Fire.
The allegations are that Pacific, Gas & Electric ("PG&E") had a long history of poor maintenance, and numerous other known issues and prior complaints.  And they have allegedly caused many other fires in the past. This shameful history demonstrates that PG&E knew that a serious fire could happen, but company executives put their own profits above the safety of thousands of people.  In this particular case, there is allegedly good evidence that a failed electrical component, owned by PG&E, started the Camp Fire.
Families may not realize what potential compensation they could possibly recover in these lawsuits.  This article explains the basic legal claims, and what damages can be recovered.