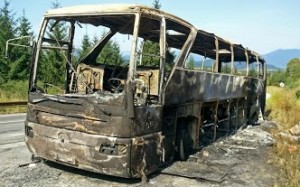 Given the spate of recent commercial tour bus crashes across the country including in California, many are asking whether there should be more oversight of these commercial tour bus and trucking companies.  Various federal agencies, including the National Traffic Safety Administration are faulting a lack of oversight of these companies as a principal cause for these incidents which have caused injuries and deaths across the country. (See article here).  Many are saying that the Federal Motor Carrier Safety Administration has been lax in it's inspection and certification processes and needs to be overhauled.  They cite to the following examples:
February, 2013: Bus Crash in Yucaipa, CA: On Super Bowl weekend, this past year, a commercial tour bus from Interbus Tours and Charters was coming down from Big Bear Lake in San Bernardino County, California when it lost control and crashed killing 8 people (including seven passengers and a pick up truck driver hit by the bus) and injuring 33 more (including 11 who sustained serious, life-threatening bodily harm).  A California Highway Patrol accident investigation revealed a major brake malfunction due to mechanical failures including cracked drums and liners on all six brakes despite the fact that the bus had supposedly been inspected and certified as safe just a month earlier.  It was revealed that federal inspectors had not even requested to inspect the various buses at the company's San Diego, CA headquarters despite prior citations based upon spot roadside checks.
December, 2012: Pendleton, OR: A commercial bus driver lost control on a slippery highway and broke through a barrier and slid down an embankment.  Nine people died and the driver and 37 of the passengers were seriously injured.  The primary cause of the incident was the excessive speed of the driver for the roadway conditions.  An inspection and investigation revealed that the driver had been on duty for 92 hours in eight straight days of work prior to the accident and the transmission retarder that was supposed to limit the bus's speed was not functioning at the time of the crash. Federal inspectors had previously cited the tour bus company for failing to test drivers for drug and alcohol use and other problems but, had reinstated their license in 2011 despite "longstanding and systemic" problems.