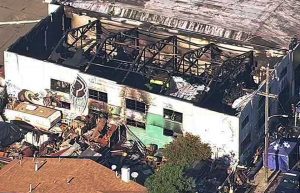 The tragic Ghost Ship warehouse fire in Oakland, California resulted in the deaths of 36 people. The warehouse had been illegally converted into living and working spaces for artists, and the victims of the fire died during a music concert that was being held in the building. The fire demonstrates the problems that can happen when buildings are used for purposes for which they were not intended. Unfortunately, the high real estate prices and rents in cities such as San Francisco, Oakland and Los Angeles has contributed to people using these spaces to work and live even though the buildings are not intended for doing so. Experienced personal injury attorneys may hold the landowners liable by filing lawsuits against them, helping to deter the negligent conduct even when code enforcement may be difficult.
Use of illegally converted buildings
The illegal conversion of buildings into spaces for entertainment, work and living quarters has been a growing problem in Southern California and in the Bay Area. This is because the real estate prices and rents are high enough that some people, including artists, have trouble finding affordable places to live. Some building owners have reacted by allowing people to rent and use the spaces as living quarters despite the fact that the buildings are not zoned for residential purposes. The state legislature is now trying to determine how to handle the growing problem through stepped-up enforcement of codes and zoning laws. Unfortunately, the resources are not available to cities and municipalities to adequately investigate all potential zoning and code violations. The civil justice system may provide an alternative means to deter landlords and leaseholders from committing code and zoning violations by holding them liable for negligence under the state's tort law.