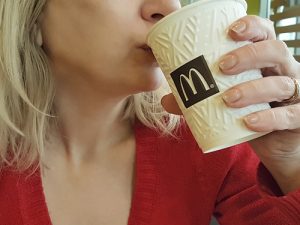 Most people have heard about the McDonald's coffee case and might have misconceptions about it. The case, 
Liebeck v. McDonald's
, in which a 79-year-old woman ordered a 49-cent cup of coffee in a drive-through and then burned herself by spilling it garnered national attention. The case is still the subject of debate about whether or not the claim was frivolous. Many people view the case as the classic example of a frivolous lawsuit, but the facts show that it was not.
Factual Background
On Feb. 27, 1992, Stella Liebeck was a passenger in her grandson's vehicle. The pair pulled into the McDonald's drive-through, and Stella Liebeck ordered a cup of coffee. Her grandson then pulled into a parking space so that she could add cream and sugar to it. When she did, she spilled some of the coffee onto her lap. Since she was wearing cotton pants, the coffee caused her third-degree burns to her thighs and her butt.