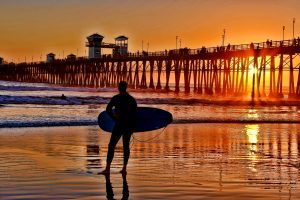 Each year, millions of people visit California for vacations and sightseeing. According to data from the
California Travel and Tourism Commission
, an estimated 42 million people visited California in 2018 alone and added $140.6 billion to the state's economy.[1] Many people who vacation in California rent vehicles and try to navigate their way around the state's interstates, freeways, highways, and streets. Unfortunately, some visitors to California sustain serious injuries in motor vehicle accidents during their visits. If you have suffered injuries in a car accident in California while on vacation that was caused by another driver, you might not know how to handle your claim. Since California's laws differ from those of some other states, retaining an experienced personal injury attorney in Los Angeles at the Steven M. Sweat Personal Injury Lawyers might be a better choice than hiring a lawyer in your home state. Here is some information about how to handle car accident claims for collisions that happen when you are vacationing in California.
Jurisdiction and venue for accident claims while vacationing in California
Car accident injuries that happen while you are vacationing in California are more complex because of issues of jurisdiction and venue.[2] Before a court can hear a case and award compensation to a plaintiff, the court must have jurisdiction over both the victim and the negligent party. The court where the claim is filed must also be convenient for all of the involved parties and be the proper venue.
For California motor vehicle accident claims, the victims should file their lawsuits in California since their accidents and injuries happened in the state. Jurisdictional issues can be complex when people are injured while vacationing in California. More than one court might have jurisdiction to hear the case. For example, if the defendant is someone who lives in a different state, you could file your accident claim in the state where he or she resides or in California. If the defendant is an entity, the lawsuit could be filed in the corporation's state where it principally does business or in California. However, since California's laws are different than the laws of many other states, it is best for accident victims to file their claims in California with the help of a local attorney who is experienced with handling California car accident claims.
The venue where the case is filed is also important. A court will be the appropriate venue to file a lawsuit if it is convenient for the witnesses and parties and can easily apply California's laws. The court that is the proper venue will also be one in which the evidence can be easily presented for the judge or jury. When an accident happens in California while you are visiting, it will be easier for witnesses to testify at trial or attend depositions. It will also be much easier to gather and present the relevant evidence since most of it will likely be located in California. California courts are also much more equipped to interpret the state's tort laws and apply them to your case.
California's laws for motor vehicle accident claims
Many states in the U.S. are no-fault states for motor vehicle accident claims. In those states, people who are injured in accidents file claims with their own insurance companies. The victims' insurance companies then handle the claims and pay their insureds compensation for their medical expenses and other losses. However, California is a fault state for motor vehicle accident claims.
When you are injured in an accident while visiting California, you will file your claim with the insurance company of the at-fault driver instead of your own.[3] That company will then investigate the accident to determine liability and whether it will pay your claim or dispute its insured's liability. Even if you live in a different state or country, it is critical to file your claim with the at-fault driver's insurance company as soon as possible. An experienced motor vehicle accident attorney in California can file your claim with the appropriate insurance company and negotiate on your behalf to secure the compensation to which you should be entitled.
In some motor vehicle accidents, multiple parties might share liability. Retaining an experienced California car accident lawyer might help you to identify all of the parties that should be named as defendants in your lawsuit. Your attorney can investigate what happened to determine liability so that all of the responsible parties can be identified. This can help to find additional sources of recovery so that you can maximize the compensation you might receive for your economic and non-economic losses.
California negligence laws
Most accidents in California involve negligence causes of action. To win your claim, you will have the burden of proof to show each of the following legal elements of negligence by a preponderance of the evidence:
The defendant owed a legal duty to you.
The defendant acted in such a way to breach the legal duty.
The defendant's breach of the legal duty caused your accident and injuries.
You suffered calculable damages as a result.
To prove these elements, you will need to gather and present evidence in court. A local attorney might work with investigators and experts to collect evidence, talk to witnesses, and build a strong case showing that the defendant is responsible for what happened to you. This is much easier to do when your attorney is located in the state where the accident happened. It is much easier to get witnesses to appear in court and gather and present evidence when the investigation happens where your accident occurred.
In some states, people who are 50% or more at fault cannot recover compensation for their losses in motor vehicle accidents. A few states have laws that bar the recovery of damages when a plaintiff shares any portion of fault. However, California has a pure comparative fault law found in Cal. Civ. Code § 1714.[4] Under this law, plaintiffs can recover damages when they are injured in accidents even when they share a percentage of fault.
The state also adopted the pure form of comparative negligence in Li v. Yellow Cab Co., 532 P.2d 1226 (1975).[5] Under this rule, plaintiffs are not barred from recovering damages after an accident regardless of how much fault is attributed to them. If you were partially at fault, however, your damages will be reduced by the percentage of fault the jury allocates to you. For example, if the jury determines that you were 40% at fault and finds that your damages totaled $1 million, your net verdict would be reduced by 40% to $600,000. Having a California attorney who is experienced in how California's negligence laws work might increase your chances of prevailing on your claim and maximizing your compensation.
Why you should retain a local attorney to handle your California accident case
Some people retain lawyers in their home states after they return home following their accidents in California. While an attorney who is licensed in a different state might be approved to appear pro hac vice in California under the supervision of a licensed California attorney on your behalf, it is a better choice to retain a local attorney in California.
If you hire an attorney in your home state to represent you in your California accident case, the expenses involved with your case can increase because of your attorney's travel expenses and the research required to understand California's accident laws. An attorney who is licensed to practice law in California will be much more familiar with how the state's laws work and can more easily investigate what happened since he or she is located where your accident occurred. Finally, it will be much easier to get witnesses to attend court and testify on your behalf when your case is filed where they live.
No matter where you live, your California attorney can help you to secure the medical treatment you need for your accident-related injuries. You can then concentrate on recovering from your injuries while your lawyer investigates your case and negotiates with the insurance company on your behalf.
Call the Steven M. Sweat Personal Injury Lawyers, APC
Being injured in an accident while on vacation in California can be devastating. If you sustained serious injuries in a car accident in California, you should consult with an experienced accident attorney at the law firm of Steven M. Sweat Personal Injury Lawyers. Contact us today for a free consultation by calling us at 866.966.5240.
Sources
[1] https://advocacy.calchamber.com/policy/issues/tourism-in-california/#:~:text=Based%20on%20statistics%20from%20the,and%205.4%25%20respectively%20over%202017.
[2] https://www.victimslawyer.com/passenger-car-accident-claims-in-california.html
[3] https://www.victimslawyer.com/car-accidents-injuries.html
[4] https://codes.findlaw.com/ca/civil-code/civ-sect-1714.html
[5] http://scholar.google.com/scholar_case?case=10387250218937350046&hl=en&as_sdt=6&as_vis=1&oi=scholarr