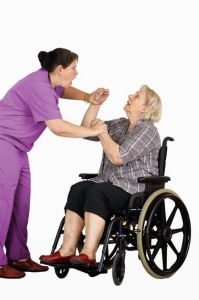 In a recent California Court of Appeal decision, Lemaire v. Covenant Care California, LLC, the court struck down a jury verdict in favor of the plaintiffs in a blow to patient's rights.  My insight in this decision is as follows:
Facts of the Case: 
Patient, Laura Clausen, suffered a stroke and was admitted to a skilled nursing facility in California run by Coventant Care.  While in their care, she later died.  Her daughter brought an action against the nursing home alleging chronic understaffing causing substandard medical care.  She further alleged in the lawsuit that the nursing facility was in violation of California Health and Safety Code 1430(b) in failing to maintain clear and legible notes in the patient history records including notes of "how the patient responds, eats, drinks, looks feels and reacts."  Plaintiff was awarded $270,000 as statutory damages under 1430(b)) and $841,842 in attorney fees along with $26,327.45 in costs.  Covenant Care California, LLC appealed this award.
Ruling:
The Court of Appeal rejected the award and ruled that statutory claims under CA H&S Code 1430(b) are limited to a "maximum of $500" and that the court had discretion to redetermine the award of attorney's fees and costs after the case was remanded back to the trial court.
My Analysis of this Ruling As A California Nursing Home Abuse Claims Attorney:
Thankfully, we live in a state that has many laws on the books that protect the elderly and the infirm.  As I have pointed out in other blogs summarizing the elder abuse laws in California, there are numerous provisions of law that require both skilled nursing facilities and assisted living institutions to provide and comply with a patient's bill of rights, which includes the right to be provided with adequate health care and be treated with dignity and respect.  Principally, these laws are found in California Welfare and Institutions Code 15600 and following.  One of the requirements of these laws is that a patient be provided with a "bill of rights".  The statute in play in this particular case was another law on the books in the Golden State that is meant to prevent elder abuse and neglect, namely, CA Health and Safety Code 1430(b), which is meant to provide some "teeth" to the requirement and enforcement of patient's bills of rights and states, in pertinent part, as follows:
"A current or former resident or patient of a skilled nursing facility, as defined in subdivision (c) of Section 1250, or intermediate care facility, as defined in subdivision (d) of Section 1250, may bring a civil action against the licensee of a facility who violates any rights of the resident or patient as set forth in the Patients Bill of Rights in Section 72527 of Title 22 of the California Code of Regulations, or any other right provided for by federal or state law or regulation. The suit shall be brought in a court of competent jurisdiction. The licensee shall be liable for the acts of the licensee's employees. The licensee shall be liable for up to five hundred dollars ($500), and for costs and attorney fees, and may be enjoined from permitting the violation to continue. An agreement by a resident or patient of a skilled nursing facility or intermediate care facility to waive his or her rights to sue pursuant to this subdivision shall be void as contrary to public policy."
Fortunately, this provision does provide for a so-called "private right of action" (i.e. if the state entities and Attorney General are not taking action to enforce compliance of elder abuse laws, a private citizen may bring such a lawsuit).  Unfortunately, if such a "private action" is filed in civil court, the "statutory" damages are limited to a mere $500.  This alone would provide little, if any, incentive for a private attorney to take on such a case.  Therefore, the right to attorney's fees and costs provides an additional incentive for a lawyer to take on this type of case on a "contingency basis", with the hopes of prevailing and being awarded reasonable attorney's fees for at a rate based upon the lawyer's level of experience and amount of hours worked.  The ruling goes to show that even with all of the laws protecting elders in California, there are still limitations on what can be recovered.  This is why it is always best to consult with an attorney that handles nursing home and elder abuse claims to understand the various statutes and how they may be used if you believe that a loved one has been abused or neglected in a California nursing home or other elder-care facility.