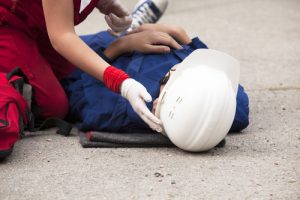 Workplace deaths from industrial accidents is on the Rise in the U.S. according to recent studies.  Most Californians do not go to their jobs with the idea that they could be injured or killed at their workplaces. Unfortunately, many people suffer serious injuries or fatalities while they are working on the job each year. Recent data shows that the number of workplace fatalities across industry sectors sharply increased from 2015 to 2016. If you have lost your loved one in a workplace accident, it is important that you speak to an experienced Los Angeles personal injury attorney for help.
Workplace fatality statistics
According to the Census of 2016 Fatal Occupational Injuries Report that was released by the U.S. Bureau of Labor Statistics, 5,190 people were killed while they were working on the job during the year. The number of fatalities increased by 7 percent over the number of workers who were killed in 2015. The fatality rate increased from 3.4 deaths per 100,000 workers to 3.6 deaths per 100,000 workers.
The transportation industry had the greatest percentage of deaths, accounting for 40 percent of the workplace fatalities that happened during the year. Deaths resulting from workplace violence followed transportation deaths and increased by 23 percent from 2015 to 2016. Deaths from slips, falls and trips increased by 7 percent in 2016 over the number who were killed in 2015. These types of accidents have increased by 25 percent since 2011. In 2016, the number of overdoses at work increased by 32 percent. Overdoses at work have increased by 25 percent annually since 2012.
Most affected industries and workers
While fatalities at work happen across industries, they are more common in certain sectors. The BLS reports that extraction workers and first-line supervisors in the construction industry suffered the highest number of deaths at 134. Groundskeeping and landscaping accounted for 125 fatalities. A total of 101 roofers were killed. Other types of jobs with high numbers of fatalities included tree trimmers, drivers, auto mechanics and agricultural workers.
Asian workers had the highest increase in the number of deaths in 2016. During the year, 160 Asian workers died, which was an increase of 40 percent over 2015. African-American workers suffered 587 deaths in 2016, which was an increase of 19 percent over the 495 people who died in 2015. In 2016, workers ages 55 and older accounted for 36 percent of the workplace fatalities. By contrast, older workers accounted for 20 percent of the fatalities in 2015. The leisure and hospitality sector saw an increase in fatalities in 2016 of 32 percent. Food service workers had an increase in fatalities of 40 percent during the year.
Death benefits in California
When workplace accidents result in worker fatalities in California, certain surviving family members are eligible to recover death benefits from the employers' workers' compensation insurance carriers. People who are eligible to receive these benefits include the spouse, child or other dependents of the workers who are killed in accidents or who die because of illnesses caused by their work environments. The eligible family members must seek these benefits no later than 240 months after the date of the injury. They must also seek the benefits within one year of when the death occurred.
For injuries that happened before Jan. 1, 2013 and which eventually lead to death, family members are able to recover $5,000 for funeral and burial costs. For injuries that happened after Jan. 1, 2013, the family members are able to recover $10,000 for burial and funeral costs. The number of benefits that survivors may receive will depend on the total number of dependents as follows:
One total dependent – $250,000
Two total dependents – $290,000
Three or more total dependents – $320,000
One total plus one or more partial dependents – $250,000 plus four times the annual cost of support for the partial dependents up to a total of $290,000
One or more partial dependents – Eight times the total annual support up to a maximum of $250,000
Death benefits are paid at the same rate as total permanent disability payments, but they will not be less than $224 per week.
When deaths are caused by third parties
As we have previously outlined, some accidents at work are caused by negligent third parties. When the actions of a third party cause a workplace fatality, the surviving family members may recover death benefits from workers' compensation while also pursuing a wrongful death case against the third party. The benefit of filing a wrongful death claim in addition to the workers' compensation claim is that people are able to recover general damages in wrongful death and personal injury cases. General damages are not recoverable in workers' compensation claims. General damages that plaintiffs may be able to recover are damages that go beyond the medical expenses, income losses and other pecuniary losses that plaintiffs suffer. General damages include the following:
Pain and suffering
Emotional distress
Grief
Anxiety
Loss of consortium
Loss of guidance and support
Other injuries
Being able to hold a third party liable in a wrongful death action while also recovering death benefits through workers' compensation may allow surviving family members to recover maximal damages so that they are fully compensated for all of their losses.
Contact an experienced Los Angeles injury lawyer
It is devastating for families when their loved ones are killed in workplace accidents or succumb to illnesses that they have contracted because of their jobs. If you have lost your loved one to a workplace injury accident or a work-related medical condition, you may need legal help. It is important for you to talk to a Los Angeles personal injury lawyer who is experienced in handling workers' compensation, personal injury, and wrongful death claims. Your lawyer may thoroughly investigate your loved one's case to identify any third parties who may hold liability in addition to your claim for death benefits. Contact our office today to schedule your free consultation.
Sources
https://www.claimsjournal.com/news/national/2018/01/22/282605.htm?utm_source=Justia+Blogging+Ideas&utm_medium=email&utm_campaign=a65b2d7684-blogging_ideas_injury_20180124&utm_term=0_dba88020e6-a65b2d7684-406010921
https://www.dir.ca.gov/dwc/WorkersCompensationBenefits.htm#DeathBenefits
https://www.victimslawyer.com/types-of-personal-injury-cases-and-accident-claims/work-injury-in-california/